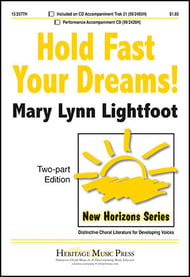 Hold Fast Your Dreams!
Mary Lynn Lightfoot
- Heritage Music Press
"Within your heart, keep one, still, secret spot where dreams may go..." Louise Driscoll's inspirational poem is perfectly wedded to the music in this expressive, emotional setting. Full of luscious choral harmonies, supported by a marvelous accompaniment, this lovely work has universal appeal. Highly recommended!
Select a Product
Customers Also Bought
This item appears on the following state lists: