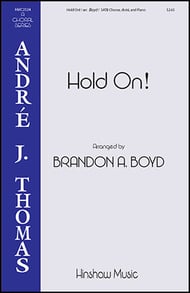 Hold On!
arr. Brandon A. Boyd
- Hinshaw Music, Inc.
"Keep yo' han' on the Gospel plow... hang on!" This traditional spiritual with a very authentic gospel-style piano accompaniment is full of exciting choral moments. The rich harmonic language set against lyrical melodic passages and articulated by syncopated rhythmic elements provides a thrilling opportunity for singers and audience alike.
Select a Product
Customers Also Bought