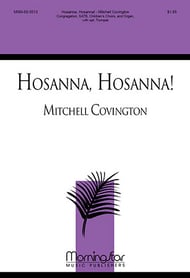 Hosanna, Hosanna!
arr. Mitchell Covington
- MorningStar Music Publishers
Here is a festive processional and hymn arrangement for children's choir and adult choir, incorporating the traditional hymn Hosanna, Loud Hosanna. The children and adult choirs begin with an upbeat melody which is suitable as a processional. The congregation then joins in singing the hymn. During the final verse of the hymn, the children and/or sopranos sing the opening melody as a descant. The piece ends with a triumphant coda. An optional part for the congregation is included in the choral score.
Select a Product
Customers Also Bought