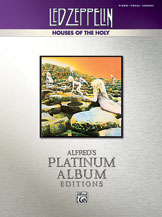 Houses of the Holy
(Platinum Edition)
Led Zeppelin
- Alfred Music Publishing
Emboldened by the success of
Led Zeppelin IV
and the classic "Stairway to Heaven," "Led Zeppelin" 's fifth album marked a broad stylistic expansion by Britain's pre-eminent band of the '70s. Drawing from more than 30 years of documentation, interviews, and recorded footage, this book delivers unprecedented accuracy. Titles include:
The Crunge; D'Yer Mak'er; Dancing Days; No Quarter; The Ocean; Over the Hills and Far Away; Rain Song
and
The Song Remains the Same.
Copyright: Van Nuys, CA: Alfred Publishing, Inc. ©2009
Select a Product
Customers Also Bought
Full Song List
THE CRUNGE
DANCING DAYS
THE SONG REMAINS THE SAME
THE RAIN SONG
NO QUARTER
THE OCEAN
OVER THE HILLS AND FAR AWAY
D'YER MAK'ER