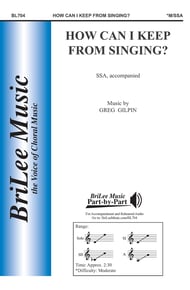 How Can I Keep from Singing?
(A Gospel Setting)
Greg Gilpin
- BriLee Music Publishing
Here's a supercharged gospel-style setting of a traditional Quaker text - a marvelous new look at a timeless American poem. This one has it all - a wide-open solo for your best gospel singer, an accompaniment that's fine as is or can be embellished at will by your pianist, and handclaps from the very first measure that'll quickly spread through your audience or congregation!
Select a Product
Customers Also Bought
This item appears on the following state lists:
This item appears on the following festival lists: