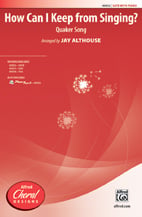 How Can I Keep from Singing?
Jay Althouse
- Alfred Music Publishing
Singers will cherish this sublime Quaker song, taken from our rich heritage of American folk music. As experienced conductors have come to expect from the gifted arranger, Jay's setting is artful in its simplicity, elegant in its effect.
Select a Product
Customers Also Bought
This item appears on the following state lists:
This item appears on the following festival lists: