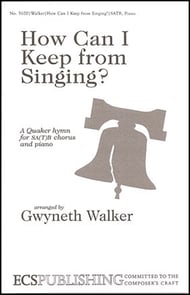 How Can I Keep from Singing?
Gwyneth Walker
- E.C. Schirmer Music Co.
This is an old Quaker hymn dating back to the 1800s in the United States. References to the persecution of Friends may be heard in the lyrics, yet faith and courage prevail. This arrangement emphasizes the celebratory and life-affirming aspects of the song.
Select a Product
Customers Also Bought
This item appears on the following state lists: