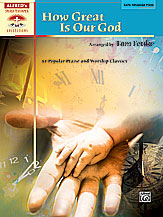 How Great Is Our God
(Plus 11 Other Popular Praise Classics)
arr. Tom Fettke
- Alfred Music Publishing
Inspire your congregation with these twelve highly effective praise and worship songs. Arrangements are at the early advanced level and are sometimes coupled with a traditional hymn. Contents include:
Amazing Grace (My Chains Are Gone); Antiphonal Praise
with
We Have Met to Worship and Praise; Be Still and Know; Holy, Holy
with
Holy, Holy, Holy; How Deep the Father's Love for Us; How Great Is Our God; In Christ Alone (My Hope Is Found); Lamb of God; Once Again
with
Beneath the Cross of Jesus; Shout to the North
with
Rise Up, O Church of God; There Is a Redeemer; You Are My King (Amazing Love)
with
And Can it Be?
Select a Product
Customers Also Bought
Full Song List
AMAZING GRACE
ANTIPHONAL PRAISE WITH WE HAVE MET TO PRAISE AND WORSHIP
BE STILL AND KNOW
HOLY, HOLY WITH HOLY, HOLY, HOLY
HOW DEEP THE FATHER'S LOVE FOR US
HOW GREAT IS OUR GOD
IN CHRIST ALONE
LAMB OF GOD
ONCE AGAIN WITH BENEATH THE CROSS OF JESUS
SHOUT TO THE NORTH WITH RISE UP O CHURCH OF GOD
THERE IS A REDEEMER
YOU ARE MY KING WITH AND CAN IT BE?