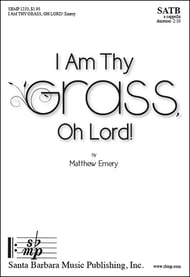 I Am Thy Grass Oh Lord!
Matthew Emery
- Santa Barbara Music Publishing
A cappella
Publisher Desc.
With text based on the metaphoric poem Trust, this piece features colorful harmonies and melodic interest in all vocal parts. This stylish composition is sure to tap into the expressive potential of your singers.
Select a Product
Customers Also Bought