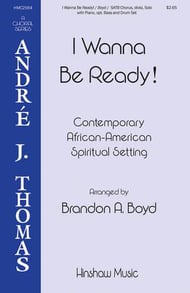 I Wanna Be Ready!
arr. Brandon A. Boyd
- Hinshaw Music, Inc.
Part of the ANDRE THOMAS CHORAL SERIES, this contemporary setting of the traditional spiritual by composer Brandon Boyd is scored for mixed chorus with solo voice, piano, and optional bass and drum set. With Boyd's distinctive rhythmic signature, the work contains a stylistic twist on a spiritual well known to many.
Select a Product
Customers Also Bought
This item appears on the following festival lists: