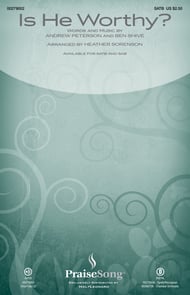 Is He Worthy?
Andrew Peterson & Ben Shive/arr. Heather Sorenson
- Hal Leonard Corporation
One of the most effective praise and worship songs in recent years is now available for your choir. Set in a powerful call-and-response style, this well-crafted adaptation of a contemporary hit is a must-do. The compelling conversational style allows the promise of our ever-present God - even in trying times - to really shine through.
Select a Product
Customers Also Bought
This item appears on the following festival lists: