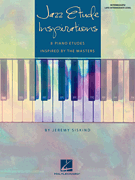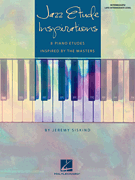 Jazz Etude Inspirations
Jeremy Siskind
- Hal Leonard Corporation
Jazz Etude Inspirations
is a collection of eight original piano etudes inspired by some of the most influential jazz pianists in history. Etudes in the style of legendary greats Oscar Peterson, Duke Ellington, McCoy Tyner, Jelly Roll Morton, Chick Corea, Brad Mehldau, Count Basie and Herbie Hancock will help students master some technical challenges posed by each artist's individual style. The performance notes include a biography, practice tips and a list of significant recordings. Titles include:
Count on Me; Hand Battle; Jelly Roll Me Home; Minor Tyner; Oscar's Bounce; Pineapple Woman; Repeat After Me
and
Tears Falling on Still Water.
Select a Product
Customers Also Bought
Full Song List
COUNT ON ME
HAND BATTLE
JELLY ROLL ME HOME
MINOR TYNER
OSCAR'S BOUNCE
PINEAPPLE WOMAN
REPEAT AFTER ME
TEARS FALLING INTO STILL WATER