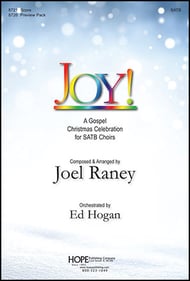 Joy!
(A Gospel Christmas Celebration)
Joel Raney
- Hope Publishing Company
Telling the Christmas story through six dynamic choral settings, Joel Raney brings his masterful ability to compose in the gospel style to this impactful presentation for SATB choirs. Christmas carols like you've never heard before, all interspersed with scripture readings on the theme of joy. Accompaniment can be provided by piano alone, by Ed Hogan's lively orchestration, or by a smaller set of rhythm parts which include the conductor's score, guitar, bass, drums, piano, keyboard I and II, and percussion. 25 minutes.
Select a Product
Customers Also Bought