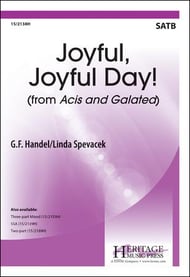 Joyful, Joyful Day!
(From "Acis and Galatea")
G. F. Handel/arr. Spevacek
- Heritage Music Press
If you're looking for a solid Baroque selection that is not over-performed, be sure to consider this up-tempo masterwork.  The arranger's English translation is the only text, and the duration is just over one minute, so it will be easy to fit into any program.  The biographical notes on the composer add to the educational value of this excellent arrangement!
Select a Product
Customers Also Bought