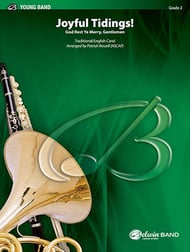 Joyful Tidings!
(God Rest Ye Merry, Gentlemen)
arr. Patrick Roszell
- Alfred Publishing Belwin Division
This fresh treatment of the perennial favorite provides a variety of moods and styles from ponderous to joyous. Full of exciting percussion, woodwind and brass section writing, effective articulations, and even some modulation, this is a true centerpiece for your holiday concert!
Select a Product
Customers Also Bought
This item appears on the following festival lists: