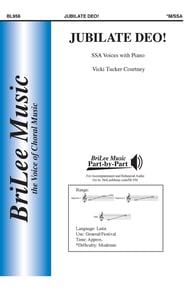 Jubilate Deo!
Vicki Tucker Courtney
- BriLee Music Publishing
With alternating sections of Latin and English text, this fresh setting of Psalm 100 is filled with rhythmic energy and joy. A beautiful lyrical section in the middle contrasts with the upbeat opening and closing sections. Fantastic voice leading and choral harmonization make this piece a winner for your next concert.
Select a Product
Customers Also Bought