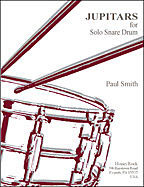 Jupitars
Paul Smith
- Honeyrock Publishing
A challenging concert snare drum solo,
Jupitars
is based on the rhythms found in the movements entitled "Jupiter" and "Mars" from Gustav Holst's concert work
The Planets
. This solo for snare drum incorporates multiple rhythms, meters and varied sounds to create a unique rhythmic interpretation of Holst's original work. A unique piece!
Select a Product
Customers Also Bought
This item appears on the following state lists: