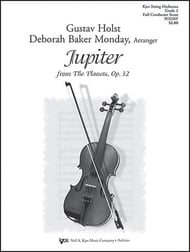 Jupiter from "The Planets"
Gustav Holst/arr. Deborah Baker Monday
- Neil A. Kjos Music Company
This is not to be missed! Rarely do young string orchestras get the chance to play a work of this importance. This arrangement, in G Major throughout, features the beautiful central hymn melody. Perfect for young players, this publication also includes a "Learning Bank" containing basic information about Gustav Holst and "The Planets."
Select a Product
Customers Also Bought
This item appears on the following state lists:
This item appears on the following festival lists: