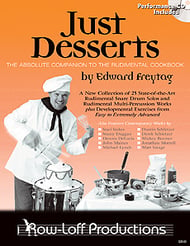 Just Desserts
Edward Freytag
- Row-Loff Productions
Publisher Desc.
Rowloff gives us another collection of 25 rudimental snare drum solos ranging from easy to extremely advanced. Includes exercises and an up-to-date, extensive hybrid rudiment list. The solos found in Just Desserts are written by some of the hottest snare drummers in the country and include several championship solos. Great for festival and auditions!
Select a Product
Customers Also Bought
Full Song List
JUST A LITTLE BIT
THE WITCH IS DEAD!
YEEHAW
SYNCOSWIM
DATE @ EIGHT
JD'S RIFF
FLAMMIN' ROUND THE MOUNTAIN
WHAT A DRAG!
TRIPLE CROWN
TOTALLY STOKED
BABY PIE'S DANCE
BOD AND JFC
SWING TIME
GROVE GROOVE
FIVE FOR JOE
GIT'N JIGGY WITH IT
ON PARADE
IT'S ABOUT TIME
POPEYE
DISPLAY
GOOGLYELMO'S QUEST FOR GLORY
KRYSTAL CLEAR
3.28 PIE SQUARED
READY OR NOT!
This item appears on the following state lists: