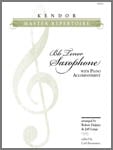 Kendor Master Repertoire
arr. Robert Dalpaiz & Jeff Lange
- Kendor Music Publishing
Publisher Desc.
Arranged by saxophonists Robert Dalpiaz and Jeff Lange and edited by pianist Carl Strommen, all eight pieces in this collection have been carefully edited to ensure a great musical experience for grade 4 saxophonists. Destined to become standard recital and contest literature for years to come! Titles include:
Sonata Op.13, No.4 (Sammartini); Sonata in E Minor (Loeillet); Concert Rondo K.371 (Mozart); Concerto No.3 in Eb Major K.447 (Mozart); The Ragtime Dance (Joplin); Allegro and Larghetto from Sonata No.4 (Handel); Fantasia in D Minor (Telemann)
and
Sonata No.4 (Telemann).
Select a Product
Customers Also Bought
Full Song List
SONATA OP.13, NO.4 by GIUSEPPE SAMMARTINI
SONATA IN E MINOR by JEAN-BAPTISTE LOEILLET
CONCERT RONDO K371 by W.A. MOZART
CONCERTO NO.3 IN EB MAJOR K447 by W.A. MOZART
THE RAGTIME DANCE by SCOTT JOPLIN
ALLEGRO AND LARGHETTO FROM SONATA NO.4 by G.F. HANDEL
FANTASIA IN D MINOR by G.P.TELEMANN
SONATA NO.4 by G.P.TELEMANN
This item appears on the following state lists: