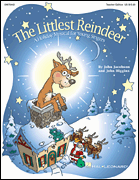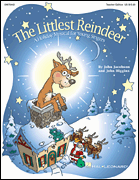 The Littlest Reindeer
John Jacobson & John Higgins
- Hal Leonard Corporation
It's Christmas and the North Pole crew are putting the final touches on Santa's sleigh when who should appear but the Littlest Reindeer! All the elves and the other reindeer laugh at her and tell her to get out of the way, but she comes to the rescue when Santa gets stuck in a too-small chimney. Just like the Littlest Reindeer, this heartwarming original musical will help children discover the special gifts inside them. Five original songs, a delightful rhyming script, choreography, staging ideas, and costume suggestions are included in the teacher's edition. The reproducible pak includes vocal lines, lyric sheets, and dialogue. 20 minutes.
Select a Product
Customers Also Bought
Full Song List
GETTING READY FOR CHRISTMAS
THE LITTLEST REINDEER
A SPECIAL GIFT
STUCK IN THE CHIMNEY
UP! UP! UP!