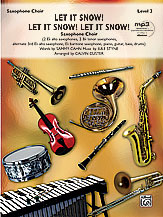 Let It Snow! Let It Snow! Let It Snow!
arr. Calvin Custer
- Alfred Music Publishing
Written on one of the hottest days on record in 1945, this classic quickly became one of the best-selling Christmas songs of all time.  For 2 altos, 2 tenors and baritone, plus optional rhythm section, this is a  great change of pace for your next holiday program!
Select a Product
Customers Also Bought