Let Nature Sing
(Solo Songs for the Developing Treble Voice)
Various Arrangers
- BriLee Music Publishing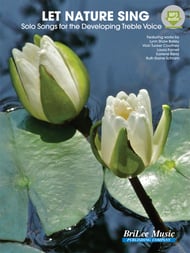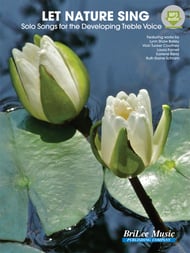 Let Nature Sing
(Solo Songs for the Developing Treble Voice)
Various Arrangers
- BriLee Music Publishing
Here is the fifth volume in a series of solo songs for young singers. It contains a wide variety of songs, from spirituals and folksongs to originally composed works. Selected with the treble voice in mind, songs with narrow ranges of six and seven notes progress to songs that expand the range as the voice develops. The nature of the selections is to challenge the voice, not to tax it; to develop its expressive capabilities, not to overextend them. Contents include:
Sometimes I Feel Like a Motherless Child; I Know Where I'm Goin'; The Song That Nature Sings; Oh Shenandoah; Night Winds; Pure, White Owl; How Can I Keep from Singing?; There's an Air of Joy in the Meadow; La Paloma
and
This Morning Paradise.
Select a Product
Customers Also Bought
Full Song List
SOMETIME I FEEL LIKE A MOTHERLESS CHILD by ARR. LYNN SHAW BAILEY
I KNOW WHERE I'M GOIN' by ARR. VICKI TUCKER COURTNEY
THE SONG THAT NATURE SINGS by RUTH ELAINE SCHRAM
OH SHENANDOAH by ARR. RUTH ELAINE SCHRAM
NIGHT WINDS by LAURA FARNELL
PURE, WHITE OWL by EARLENE RENTZ
HOW CAN I KEEP FROM SINGING? by LAURA FARNELL
THERE'S AN AIR OF JOY IN THE MEADOW by LYNN SHAW BAILEY
LA PALOMA (THE DOVE) by ARR. EARLENE RENTZ
THIS MORNING PARADISE by VICKI TUCKER COURTNEY
This item appears on the following state lists: