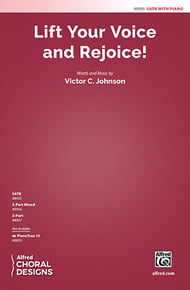 Lift Your Voice and Rejoice!
Victor C. Johnson
- Alfred Music Publishing
Triumphant and energetic opening and closing sections fill this original work with syncopated momentum and brisk harmonic development. A contrasting middle section sings "Gaudeamus hodie" with lyrical lines in smooth choral counterpoint before reprising to a glorious finish. A wonderful choice to open a concert, festival, or service!
Select a Product
Customers Also Bought
This item appears on the following state lists: