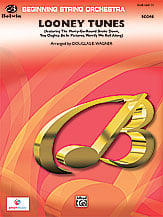 Looney Tunes
arr. Douglas Wagner
- Alfred Publishing Belwin Division
Treat your orchestra to this delightfully fun medley of 3 cartoon classics! The Looney Tunes and Merrie Melodies cartoons favorites are:
The Merry-Go-Round Broke Down (1937),
the
Looney Tunes theme song; You Oughta Be In Pictures (1934)
and
Merrily We Roll Along (1935)
, the Merrie Melodies signature tune. Perfectly crafted for young players! For added color, optional percussion and drum set parts have been included to keep the action moving.
Select a Product
Customers Also Bought
MINTS