Megavox 2 Portable Outdoor PA with Wireless Handheld Microphone
(Outdoor Sound Solution)
- Anchor Audio, Inc.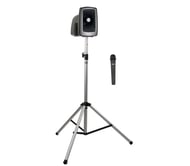 Megavox 2 Portable Outdoor PA with Wireless Handheld Microphone
(Outdoor Sound Solution)
- Anchor Audio, Inc.
A freestanding outdoor PA system with huge power and clarity for crowds of 1000+, this highly portable system comes with a handle for easy transportation and emits a whopping 119 dB of clear sound. Battery operation is good for up to eight hours.
Includes:
• MEGA2-U2 PA system with built-in Bluetooth
• SS-550 heavy-duty speaker stand
• Wireless handheld mic

Features:
• Wireless microphone range over 300 feet
• 119 dB of clear sound
• Stand mountable
• 20-watt AC/DC mode
• Two built-in wireless receivers
• Built-in Bluetooth
• Siren alert button
• Built-in rechargeable battery operates 6–8 hours on a single charge
• High-efficiency reentrant horn driver
• External speaker output powers MegaVox unpowered or powered AIR companion speaker
• Made in the USA
• Six-year warranty on the PA system electronics
• Four-year warranty on built-in lithium-ion battery
• Two-year warranty on microphones and accessories
• Dimensions: 14" x 13" x 8.5"
Select a Product
Customers Also Bought