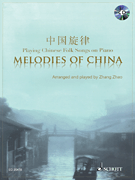 Melodies of China
arr. Zhang Zhao
- Schott Music Distribution
Melodies of China
is a vibrant, colorful collection of traditional Chinese folk songs written for piano solo. Titles include:
Pastoral; Yellow River Boatmen's Song; Go to Jiangzhou; Lullaby; Alamuhan; Ga Da Mei Lin; Jingpo Folk Song; Hani Love Song
and many more. A CD is also included which features each song played by the arranger, Zhang Zhou.
Select a Product
Customers Also Bought
Full Song List
JASMINE
KANGDING LOVE SONG
WEAVE A BASKET OF FLOWERS
MALAN FOLK SONG
MAYEELA
FLOWING STREAM
SENJIDMA
WHY ARE THE FLOWERS SO RED
WA FOLK SONG