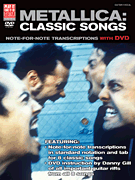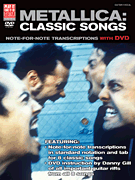 Metallica: Classic Songs
Metallica
- Hal Leonard Corporation
Note-for-note transcriptions in standard notation and tab for eight classic songs with a DVD including instruction by Danny Gill of all the important guitar riffs or bass riffs. Jack E. Roth provides instruction of all the important drum grooves and fills. Songs include:
...And Justice for All; For Whom the Bell Tolls; Frantic; Hit the Lights; Leper Messiah; The Memory Remains; Until It Sleeps
and
Wherever I May Roam.
Select a Product
Customers Also Bought
Full Song List
HIT THE LIGHTS
FRO WHOM THE BELL TOLLS
LEPER MESSIAH
AND JUSTICE FOR ALL
WHEREVER I MAY ROAM
UNTIL IT SLEEPS
THE MEMORY REMAINS
FRANTIC