MiC+ Mobile Recording Mic
Apogee
- Apogee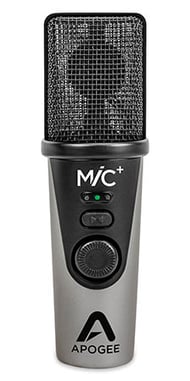 MiC+ Mobile Recording Mic
Apogee
- Apogee
Apogee MiC Plus is a professional studio quality USB microphone you can connect to your iPad,iPhone, iPod touch, Mac or PC. MiC Plus makes it easy to capture your best take with incrediblequality, anywhere you go. Record any sound you can imagine, from vocals to voice-overs, instrumentsto interviews and everything in between.
Features include:
• Professional cardioid condenser microphone capsule
• PureDIGITAL connection for pristine sound quality up to 24-bit/96kHz
• 46dB of mic preamp gain, digitally controlled for greater precision
• Powerful headphone output with Blend feature for zero latency recording
• No configuration required, just plug in and record
• Made in the U.S.A.
Select a Product
Customers Also Bought