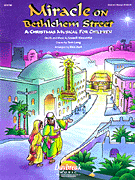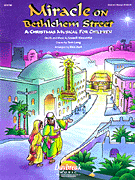 Miracle on Bethlehem Street
Lowell Alexander & Tom Long/arr. Hart
- Hal Leonard Corporation
Bethlehem has never been busier! Caesar's census has the entire town in a frenzy and, of course, everyone's favorite innkeeper plans to capitalize on the coming crowds. He has decided to make his inn a luxury inn complete with valet camel hitching and a fig on every pillow. From joyous to gentle, it retells the Christmas story in an unforgettable way with fun, heartfelt unison songs and clever dialogue. This musical is easily prepared by either small or large groups. Songs include:
Bethlehem Is Busy, Dollars and Census, Make a Place, Everybody Wants to Stay, Flock Watchers, Chasing a Star, Miracle on Bethlehem Street
and
Receive the King.
Grades 1-6. 30 minutes.
Select a Product
Customers Also Bought
Full Song List
BETHLEHEM IS BUSY
CHASING A STAR
DOLLARS AND CENSUS
EVERYBODY WANTS TO STAY
FLOCKWATCHERS
MAKE A PLACE
MIRACLE ON BETHLEHEM STREET
RECEIVE THE KING
MUSICAL INTERLUDE