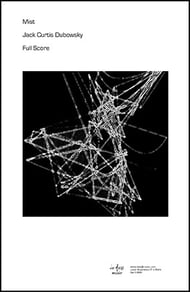 Mist
Jack Curtis Dubowsky
- De Stijl Music
Publisher Desc.
Mist (2013), commissioned by the Chicago Modern Orchestra Project, explores sonic textures and aleatory sound using contemporary effects; it incorporates drones, structured improvisation, indeterminacy, and ambient moods. Mist features rising structures; the mist is rising. Mist was premiered on January 22, 2014 by the Chicago Modern Orchestra Project, conducted by Renée Baker, at the South Shore Cultural Center, Chicago IL. A motto based upon the vowels in Renée's name, E, E, E, B, A, C, E, reinforces the use of E as a drone, which is an open string on the basses.
Instrumentation: 2 Flutes, Tenor Sax, 2 Trumpets in C, Trombone, Vibraphone, Strings.
This is a transposing score in open key. This is not a "concert pitch" score.
Select a Product
Customers Also Bought