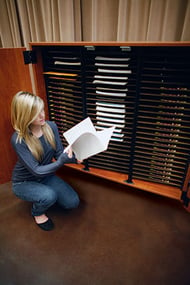 Mobile Choral Folio Cabinet 3 Column with Doors
Wenger
- Wenger Corporation
~ A Customer Service Rep will contact you with a shipping quote. Shipping to Continental USA Only.

Mobile Folio Cabinets are a great way to
make your choral, band or orchestra music portable. These durable
cabinets make the most of every square inch of space.
Mobile Folio Cabinet comes assembled and are a welcomed asset to every rehearsal room.
Unit comes fully assembled.

PRODUCT SPECIFICATIONS:
Mobile Folio Cabinets
• Polyester laminate finish for added strength
• Available with adjustable shelves for both choral and band/orchestra
• Shelf supports are guided by an extruded aluminum column with black finish
• Shelves are constructed of thermofused composite wood
• Shelf spacing is adjustable in 1/2" (1.3 cm) increments from 1" (2.5cm) to 3" (7.5cm) spacing intervals
• Multiple color choices
• Durable, smooth-rolling swivel casters let you take your sheet
music anywhere
Allow 30 to 60 days delivery.
Warranty
Wenger Corporation offers a 10 year warranty on this product. See www.wengercorp.com for more details.



Select a Product
Customers Also Bought