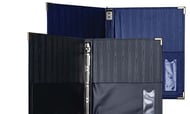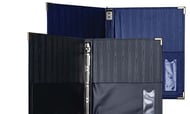 Model 901 Choral Folder
(The Legacy)
- J.W. Pepper & Son
Our Model 901 Legacy choral folio is made of the finest materials and fits both octavo and 8 1/2" x 11" music! It's padded with metal corners and has fully reinforced stitching with gusseted pockets to hold more music. The cloth retention strap is stitched inside to automatically hold the folder open at an approximate 135-degree angle. Also included is a pencil holder and a vertical, heavy-duty stitched hand strap on the outside spine for comfortable, one-handed use. Compared to black straps, this clear strap is virtually unnoticeable! Available with either 7-string elastic stays or 3 rings. Dimensions: closed width: 9 1/4"; height 12". Pocket dimensions: 8 3/4" x 5 7/8". Made with over 90% recycled materials.
Please Note:
Burgundy folders shipped after September 1, 2016 may be a slightly darker shade then previously ordered.
Select a Product
WARNING: This product can expose you to chemicals which are known to the State of California to cause cancer, birth defects, or other reproductive harm.
Customers Also Bought
Footnote
Sorry, this item can not be imprinted.
This item appears on the following festival lists: