Morning Star
(Celebrating the Everlasting Light of Christmas)
Lloyd Larson
- Lorenz Corporation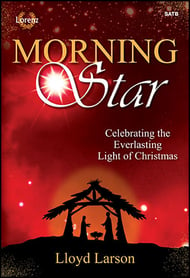 Morning Star
(Celebrating the Everlasting Light of Christmas)
Lloyd Larson
- Lorenz Corporation
The Christmas story is one of hope. It is a message for each of us at any stage of life's journey reminding us that in our own dark nights Christ, the Light of the world, has come. This versatile musical is designed to be a worship celebration for choir, two narrators, and congregation. The blending of new and familiar Christmas melodies ensures a meaningful experience. The varied accompaniment options - from piano only to full orchestra - as well as the availability in both SATB or SAB versions enables this cantata to work for choirs large and small. This inspiring work can be presented in shorter segments through the Sundays of Advent. 30 minutes.
Select a Product
Customers Also Bought
Full Song List
O COME O COME EMMANUEL
MORNING STAR
CHOSEN BY GOD
O LITTLE TOWN OF BETHLEHEM
HE COME FROM THE GLORY
WHY DO THE SHEPHERDS SING?