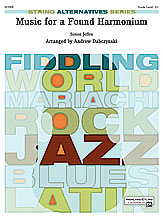 Music for a Found Harmonium
Jeffes/arr. Dabczynski
- Alfred Music Publishing
Written in 1984 by English composer Simon Jeffes and described as minimalist folk music,
Music for a Found Harmonium
is widely recognized for its appearance in the soundtrack to the popular film "Napoleon Dynamite." In this arrangement, the quirky but energetic melody is introduced by the violas and celli, and is later echoed and elaborated by the violins. Joyful rhythmic figures, challenging accents, syncopations, and a driving bass line all punctuate the accompaniment throughout the piece. It's an exuberant work that is bound to bring the audience to its feet.
Select a Product
Customers Also Bought
MINTS