NPS AirFlex Premium Polypropylene Folding Chair
National Public Seating
- National Public Seating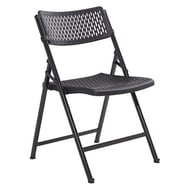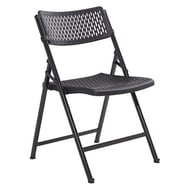 NPS AirFlex Premium Polypropylene Folding Chair
National Public Seating
- National Public Seating
~ A Customer Service Rep will contact you with a shipping quote. Shipping to Continental USA Only.

Distinct AirFlex design, using air technology, contours to each individual making for the perfect balance of comfort and strength. Built on an 18 gauge steel frame with 11 gauge seat braces along with ultra-durable industrial grade 3.8mm polypropylene seat and back allows for a 1000 lbs. weight capacity making the Airflex virtually indestructible. Oversized 18 inch seat pan and ventilated design provides extreme comfort for all day use. It's the ideal chair for any indoor or outdoor event. Glides & leg plugs allow for stacking & nesting. Airflex….. bringing comfort back to folding chairs.
4 Chair minimum due to shipping.

1000 lbs. Weight Capacity
Durable Industrial Grade 3.8MM Polypropylene
Oversized 18" Seat
Sweat - Free Ventilation
Strong 18 Gauge Steel Frame
Designed for Easy Stacking
7/8" Square Leg Tubing for Added Strength
Backrest Secured with Rivets
10 Year Warranty
Select a Product
Customers Also Bought