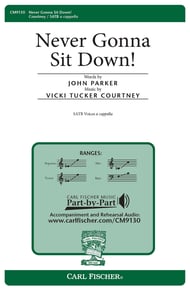 Never Gonna Sit Down!
John Parker & Vicki Tucker Courtney
- Carl Fischer LLC
A cappella
This a cappella original is so good, it sounds like a classic spiritual!  It's hard to imagine a more emphatic affirmation of the value of determination in the face of adversity.  "As long as there's breath in my body, I will never, never, never, never, no, never... never sit down!"  No solos are required - it's solid ensemble singing all the way - and the soulful choral texture is filled with exciting dynamic contrasts!
Select a Product
Customers Also Bought
This item appears on the following state lists: