Nicolo Paganini
(With an Analysis of His Compositions and a Sketch of the History of the Violin)
Francois-Joseph Fetis & Stewart Pollens
- Dover Publications Inc.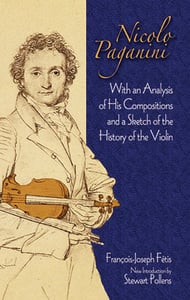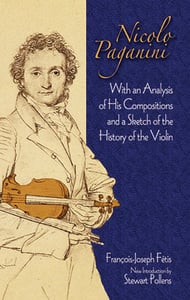 Nicolo Paganini
(With an Analysis of His Compositions and a Sketch of the History of the Violin)
Francois-Joseph Fetis & Stewart Pollens
- Dover Publications Inc.
Written by an immensely important musicologist, this rare 1860 monograph analyzes Nicolo Paganini's compositions and provides a fascinating history of the violin.  Author François-Joseph Fetis was Paganini's close friend and well acquainted with many other Romantic composers and artists.  Students of the history of music, music lovers, violinists, and musicologists will find this volume a rare source of firsthand observations on the legendary violin virtuoso and his circle.  Reprint.  Paperback, 112 p.
Copyright: Mineola, NY: Dover Publications ©2013
Select a Product
Customers Also Bought