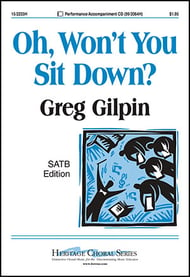 Oh, Won't You Sit Down?
Greg Gilpin
- Heritage Music Press
Greg has worked his magic and this arrangement is absolutely infectious! By employing rounds, vocal ostinatos and dynamic contrasts, he totally engages us in the energy and intensity of this work. A strong descant is then added to propel this dynamic piece to its exciting conclusion. A creative programming winner!
Select a Product
Customers Also Bought
This item appears on the following state lists:
This item appears on the following festival lists: