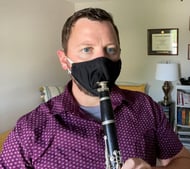 Performance Series Face Masks
Marchmaster
- Marchmaster, Inc.
This musician's PPE mask is designed to create equal tension around the embouchure without impacting the performer. All Performance Series masks have four pieces of sewn-in elastic, totaling 12", which allow for the ends to be tied by the wearer. This gives the ability to balance the tension on both ears, keeping the mouthpiece from impacting the seal of the nose. The fabric is double-layered around the fold-over area of the opening for the mouthpiece. Machine washable. Performance Series masks are NOT replacements for medical-grade masks.
Performance Series mask sizes:
• Adult: 5.25" x 8"
• Youth: 4.25" x 7"
CDC and governmental health guidelines should be followed in using this product. Wash before use.
Select a Product
Customers Also Bought