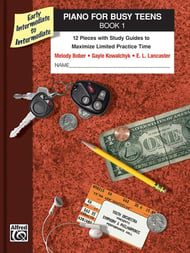 Piano for Busy Teens
(Books A - 3)
Melody Bober, Gayle Kowalchyk & E.L. Lancaster
- Alfred Music Publishing
Here is a method designed specifically for busy teens who love music and want to continue their piano study, but have limited practice time. Each book contains motivating solo pieces in a variety of styles, a Hanon study to develop technical skills, and a duet to play with a friend. A study guide for each piece helps the student practice more efficiently and make the most of their precious time at the piano. The guide contains four sections: 1-Minute FYI, 5-Minute Warm-Up, 15-Minute Practice Plan and 5-Minute Finishing Touches. Titles in Book 1 include:
Fast Track Boogie
(Melody Bober);
Rage Over the Lost Penny
(Beethoven);
Exercise No. 1 from The Virtuoso Pianist
(Hanon);
On a Mission
(Bober);
Sonatina in C Major, First Movement
(Lynes);
Midnight Ride
(Bober);
Musette in D Major
(Bach);
Love Those Blues
(Bober);
Arabesque
(Burgmuller);
Emerald Fountain
(Bober);
The Entertainer
(Joplin) and
Fiesta Cha-Cha
duet (Bober).
Select a Product
Customers Also Bought