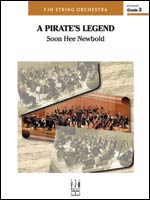 A Pirates Legend
Soon Hee Newbold
- FJH Music Company Inc
This is exciting! Soon Hee Newbold has created a musical adventure filled with pirates, buried treasure, and struggle on the high seas! Sections are entitled:
Calm Before the Storm;
The Jolly Roger; The Storm; Deserted Island
and
Treasure.
To tell this musical story, your orchestra will learn to use a wide variety of effects including harmonics, col legno, and mutes. Celli create the sound of seagulls flying over a deserted island using artificial harmonics (clearly explained in the notes). The opening viola solo is cued in all instruments so you can easily feature any soloist, section, or mixed group. This thrilling adventure is sure to be the hit of your concert!
Select a Product
Customers Also Bought
This item appears on the following state lists: