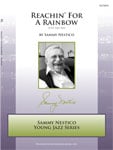 Reachin' for a Rainbow
Sammy Nestico
- Kendor Music, Inc.
Reachin' for a Rainbow
features a crisp style and includes short rhythmic figures that are played very short. Optional parts are included for lower 3rd and 4th trumpet parts if the written lines are too demanding. This impressive swinger by master composer Sammy Nestico is sure to please!
Select a Product
Customers Also Bought
MINTS