Reincarnations
Samuel Barber/ed. Parman
- G. Schirmer, Inc.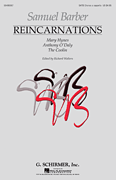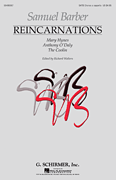 Reincarnations
Samuel Barber/ed. Parman
- G. Schirmer, Inc.
A cappella
Edited by Joshua Parman. For SATB A Cappella choir. Complete Edition of his classic
Reincarnations,
with historical introduction, and newly edited music engravings based on the composer's manuscript. Includes:
Mary Hynes; Anthony O'Daly
and
The Coolin.
Choral score, 40 p.
Copyright: New York, NY: G. Schirmer, Inc. ©2010
Select a Product
Customers Also Bought
This item appears on the following state lists: