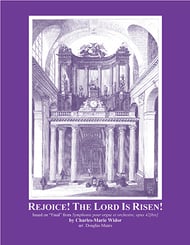 Rejoice! The Lord Is Risen!
Charles-Marie Widor / Douglas Mears
- Douglas Mears
Publisher Desc.
Though not as well-known as the Toccata from his Organ Symphony No. 5, Widor's Final from the Sixth Organ Symphony is equally breathtaking. In fact, Widor thought so much of it that he later transcribed the work as the culmination of his Symphony for Organ and Orchestra. "Rejoice! The Lord Is Risen!" was written to be sung to the accompaniment of this stunning organ finale. Widor's extraordinary music provides the inspiring foundation for this Easter anthem that will thrill both choirs and congregations. Optional brass and percussion parts add to the work's magnificence.
Select a Product
Customers Also Bought