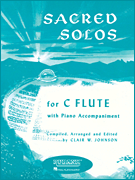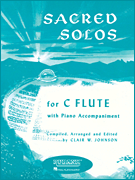 Sacred Solos
arr. Clair Johnson
- Rubank Inc. Music Pub.
This is a fine collection of standard, very playable, sacred solos with piano accompaniment. Contents:
Bizet-Agnus Dei; Mozart-Alleluja from Exsultate Jubilate; Bach/Gounod-Ave Maria; Schubert-Ave Maria; Fearis-Beautiful Isle of Somewhere; Rodney-Calvary; Adams-The Holy City; Mendelssohn-If with All Your Hearts from Elijah; Gounod-O Divine Redeemer; Franck-Panis Angelicus; Mascagni-Prayer from Cavalleria Rusticana; Nevin-The Rosary; Handel-Where'er You Walk.
Select a Product
Customers Also Bought
Full Song List
ADORATION
ALLELUIA
AGNUS DEI
AVE MARIA
CALVARY RODNEY)
THE HOLY CITY
IF WITH ALL YOUR HEARTS ELIJAH)
MEDITATION
PANIS ANGELICUS O LORD MOST HOLY)
THE ROSARY
WHERE E'ER YOU WALK HANDEL)
This item appears on the following state lists: