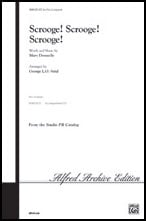 Scrooge, Scrooge, Scrooge!
Mary Donnelly/Strid
- Alfred Music Publishing
This ingenious retelling of Dickens' "A Christmas Carol" is an absolute must for your holiday concert! The minor-key music dramatically sets the stage for the great lyrics, which cleverly tell the story in rhyme. "There once was a very stingy man who lived in London town. He pinched each penny 'til it squeaked; he always wore a frown..." Don't let this holiday season go by without including this in your program!
Select a Product
Customers Also Bought