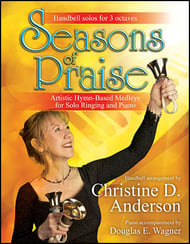 Seasons of Praise
Douglas E. Wagner, Christine Anderson
- Lorenz Corporation
Recognized worldwide for her artistry as a handbell soloist, Christine Anderson brings a level of performance excellence to solo ringing that is unparalleled in the handbell world. Give your best ringer a unique solo experience with this, her latest book of music for the solo ringer. Four extended medleys (three seasonal and one general-use), each with its own highly stylized piano accompaniment, are included in this exciting, new collection. Extensive notes regarding technique and performance suggestions are provided, as well as detailed choreography notated in all of the reproducible handbell parts. Each medley may be performed in its entirety or presented in an abbreviated format as indicated in the score, giving you the ultimate in performance and versatility. Titles include:
No Greater Love; Alleluia, Jesus Lives!; In Heavenly Peace
and
Come, Let Us Worship.
Select a Product
Customers Also Bought