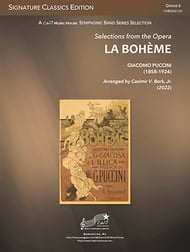 Selections from the Opera LA BOHEME
Giacomo Puccini/arr. Casimir V. Bork, Jr.
- CWJ Music House
Publisher Desc.
La Boheme was written by Giacomo Puccini (December 22,1858-November 29, 1924). It was his fourth opera and was composed from 1893 -1895 starting his "Middle Period" during which he composed two other operas; Tosca and Madame Butterfly. These three were his, and the opera world's, most famous. It was premiered on January 2, 1896 at the Teatro Regio in Turin under the baton of Arturo Toscannini. This Signature Classics arrangement has been expertly scored with a full symphonic band instrumentation and is set for advanced and professional ensembles. If you are looking for a challenging, yet highly rewarding work, look no further!
Select a Product
Customers Also Bought