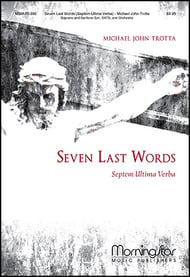 Seven Last Words
(Septem Ultima Verba)
Michael John Trotta
- MorningStar Music Publishers
This long-awaited major work is a seven-movement choral journey through the Passion, which delivers a powerful and captivating story encompassing a breathtaking palette of emotion, from intimate tenderness to majestic triumph. A rare gem, powerfully emotive and effective in both liturgical and concert settings. The work may be performed in either English or in Latin.
Movements include:
1. Father, Forgive Them
2. Today, You Will Be with Me
3. Behold Your Son
4. I Thirst
5. My God, Why Have You Abandoned Me?
6. Into Your Hands I Surrender My Soul
7. It is Finished.
Select a Product
Customers Also Bought